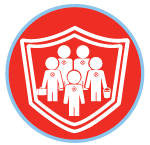 Advanced Level Courses 102
CPR – Cardio Pulmonary Resuscitation
Learn how to preform CPR to infants, children and adults.
The next steps to take after this Awareness Level training.
Volunteers, like you, are often the first, "first responders" in a crisis and offer the most immediate benefit and comfort to those effected. This specialized level of training provides more complex skills instruction and goes more in-depth to cover health-related conditions as well as serious "on the ground" volunteer situations.
Instructions
Introductory Video
Pre Test
Training Video
Post Test
You need to be
logged in
to enroll in this course
Instructions
Click the button above to Enroll.
Select the Introductory Video on the left to begin.
Follow the instructions located beneath each video to continue.
NEW VIDEO COMING SOON. PLEASE MOVE ON FOR THE PRE TEST AND TRAINING VIDEO
Please watch the introductory video first, then click here to continue.